Nicaragua Descanso and our passion for the Granada islets!
The El Roble island is a private islet owned by Nicaragua Descanso since 2000, only 10 min from the Asese port in Granada. It has an area of 2000m2 and with 2 houses and a capacity for up to 12 people.
Everything, was built colonial style, respecting the rules and using local materials such as wood, wrought iron, palm, colonial tile...
Four bedrooms for two or three people with private bathroom - shower, toilet, washbasin.
Another bathroom with shower, toilet, washbasin.
Living room-kitchen equipped with kitchen gas refrigerator, and two sofas.
60m² Ranch-Terrace - Four hammocks - A large terraced garden ... and even room for pétanque...
10x8m swimming pool, right next to the terrace with direct view to the Mombacho volcano!
Great BBQ
Ship captained by Alfonso
Two available canoes
Books, music... 
Electricity (110 V) is produced by 5 solar panels, meaning a total autonomy!
The water from the lake is used to supply showers, toilets and sinks
An exceptional place to discover!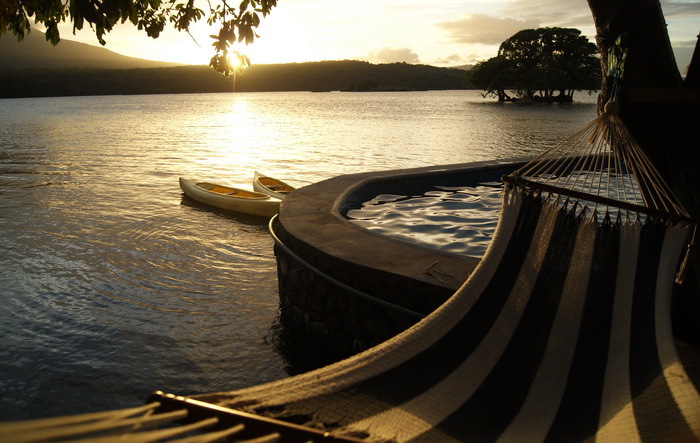 A small preview ?
Where are we?
Terms
Just like a hotel or a hostel ! But in any event, a reception as a "guest house"
Alfonso will greet and attend you; he is the steward and also the captain of our ship.
Yacquelin is in charge of the daily conditioning of El Roble, helped by Dailin.
Available: sheets, towels, soap, water, coffee, tea, ice, miscellaneous...
Princing
El Roble is leased "just for you"; the rate decreases if you come in groups and if you stay for several nights!
The 1st room: € 75, Next room: € 32, or € 27 a night per person for a group of 4.
Ideas
Time stops in El Roble! All stays packages are possible. We have offers of 3 days / 2 nights, but you can make a perfect stay for a week!
Because of its proximity to Granada, you can easily make a round trip to the city during the day! The same goes for the Mombacho and Masaya volcanoes!
Therefore, activities and visits out of the island are very varied. Among the innovations: the fishing hawk, canoe paddling with one of our friends Emner or Francisco!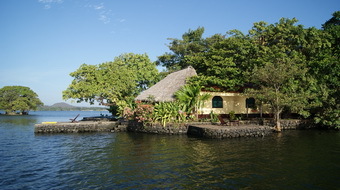 Testimonials
El Roble is a magical place surrounded by the lake, dominated by the Mombacho volcano, lost among the islets, we don't talk too much about it, we rather keep it as our secret!!!
A stop, a haven of peace, protected by the Mombacho and enlivened by the delicacies of the family of Francisco! Moreover, it appears, there is now a shower with hot water! What a treat!
Note: if you love to travel, if you love a change of air and adventure (with no risks), then go and discover Nicaragua and especially take the time to go through El Roble. It is simply GREAT! D.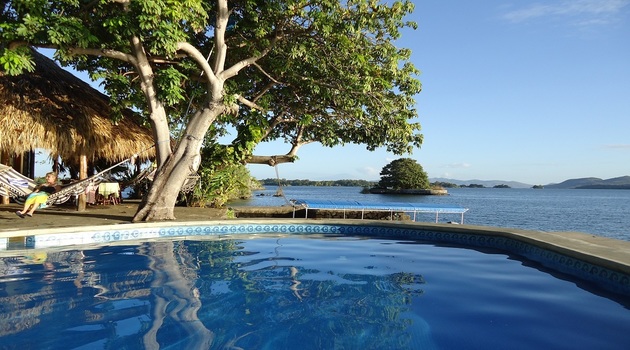 3 days in a private island!
How would you like a stay in a little island occupied solely by you in the heart of the Granada islets? 
Read more