An experienced and passionate French-Nicaraguan team!

Stéphane, alternating between France and Nicaragua, Bryan and Francisco on the field, plan stays and host travelers.
Transport and escort is provided by francophone and Nicaraguan guides, experts in their region, who will accompany you during your stay, presenting you the different facets of the country, with a bagful of anecdotes to share!
Antonio is our No. 1 driver, and make sure with his drivers Ivan, Wilbert, Ulises, Robert or Eddy that your stay and your travel is going well.
Alfonso is the overseer and steward of El Roble, he is assisted by Yacquelin and Dailin.
Luis Espinoza, Allan, Luis Romero, Mercedes, Harold, Lester and Loyda will be your guides, along with Stephane when he is on the field, depending on the part of the country you are visiting.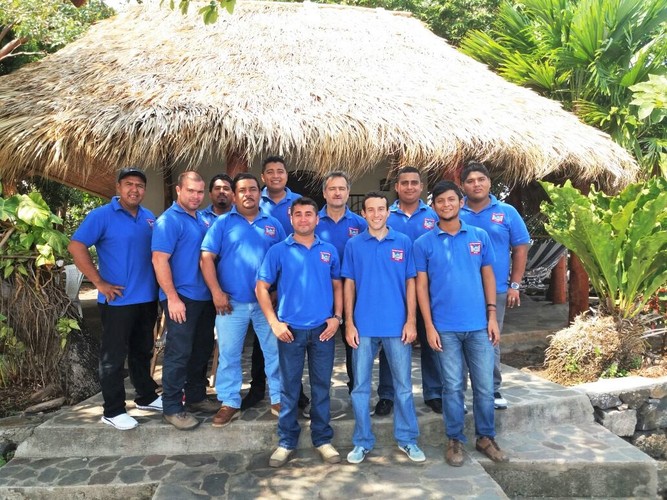 You can put your mind at rest when travelling Nicaragua with Nicaragua Descanso and discover the charm of this incredible country. We work mainly with local partners in a friendly environment of people, culture and natural surroundings.
We offer different types of accommodations, family hostels (board), a variety of higher-end hotels, plenty of places to visit, various modes of transportation (sedan, SUV, 4x4, boat, minibus, urban bus!), or even horse-drawn coach and local airlines.
Transportation and visits as well as the drivers and guides will adapt to your wishes, your rhythm, your interests or your desire to be on your own!
Similarly we can help you organize your trip based on:
Budget,
Mode of travel,
The length of your stay,
Your desires of nature, culture, and meeting people...
We receive essentially travelers who come alone, couples, families or small groups made up in advance.
We always provided a fully personalized service: every stay is unique! We are committed to helping you prepare for the trip that best suits your needs and accompany you discovering this endearing country.
Our commitment
Immediate response to your needs
The possibility of meeting Stéphane in France to plan out your trip.
A detailed and personalized budget
Depending on your plan of choice, a complete trip journal with practical information, helpful tips and day-by-day details.
Escorting on site.
Our means of transportation
A 4x4 Mitsubishi vehicle seating 5-9 people – A/C
A 5-seat Toyota sedan – A/C
A boat «El Roble» that can seat 12 people !
Depending on the stays we might rent vehicles from our local partners that usually consist of:
Minibus for 10-14 people – A/C; Minibus for 6-10 people – A/C
24-seat "Coaster" Bus - A/C
A variety of 4x4 vehicles, pick-ups, APV minibuses small sedans.
The legal framework
Nicaragua Descanso SA is a public company incorporated in Nicaragua, led by Stéphane Sohier, register under RUC No. 020601 9000.
Tour Operator License No. 250608-0V-4879J
Nicaragua Descanso has the Professional Civil Liability insurance signed with the local company INISER.
Nicaragua Descanso is 98% subsidiary of the French society Héol Invest, SARL with a capital of 182,000 euros, registered at the Commercial Registry of Societies of RENNES number 435 401 526.
Héol Invest acts on behalf of Nicaragua Descanso SA through an agreed power and effective advance. Héol Invest is part of the Credit Agricole d'Ille-et-Vilaine credit card system of payment along with a distance payment plan.