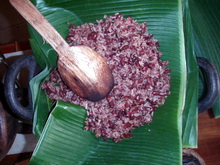 Rice and red beans are the basics!
Then you add onions, green peppers and even some meat, depending on what you like.
It can be eaten at any meal! It's one of the most consumed dishes in Nicaragua. Stéphane is a fan of breakfast with gallo pinto, with some eggs and a nice cup of coffee (Nicaraguan of course).
Another idea is to accompany this with a corn tortilla... We won't be hungry for a while.
For those who already had the pleasure of tasting it, we are waiting for your opinions!
To everybody else, we are waiting for you here for a tasting session.